Ministry of Human Rights and CARE International in Pakistan launched documentary
19th September, 2017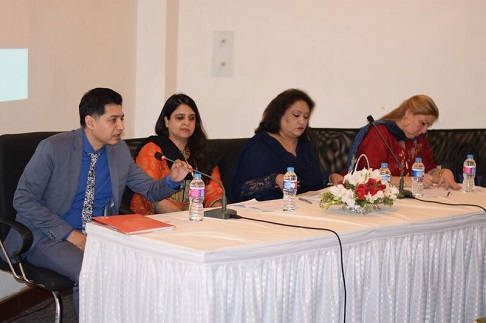 Ministry of Human Rights and CARE International in Pakistan launched documentary on Engaging men to ensure gender equality in special screening and panel discussion session of Asia Peace Film Festival on 18th September, 2017. CARE International is supporting the Ministry of Human Rights in the implementation of its National Action Plan to end Gender Based Violence.
The documentary highlighted the value that both men and women play as individuals, as partners together and as important members of their communities in our broader movement to ensure gender equality in Pakistan. CARE International documented those change stories from very remote areas of Pakistan and gauge the transformation in women lives by engaging men.
The documentary is initially launched at the Asian Peace Film Festival and later it is going to be screen nationwide to generate a positive discourse on the significant role of both men and women and engaging more men in our struggle to eradicate gender based violence and to ensure gender equality.
During the Panel discussion the UN women Country Representative Jamshed Kazi said to speed up efforts with such initiatives to achieve sustainable development goal 5 –Gender equality till 2030.The chair of the event Ms. Rabiya Javeri Agha, Secretary Ministry of Human Rights shared action points of Ministry's National plan of action and to launch soon the human rights policy framework.
https://www.youtube.com/watch?v=YWwDEcciP_w&feature=youtu.be